Stay Up to Date—Willcox Unified News
We may be a small district, but there is always a lot happening here at Willcox Unified. Check here for news and events going on in our schools. We'll update it regularly so you always have the most current information possible.
Congratulations Arizona Teacher of the Year, Ty White!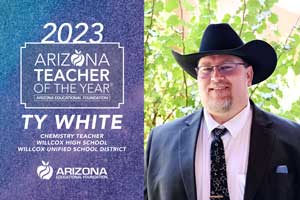 Arizona Educational Foundation (AEF) announced Ty White from Willcox High School as the 2023 Arizona Teacher of the Year. White now goes on to compete as Arizona's candidate for National Teacher of the Year.
Ty White currently teaches high school chemistry at Willcox High School in Willcox, Arizona. He received his bachelor of arts in education in secondary education - chemistry from Arizona State University, and his master of arts in education in STEM education from the Teachers in Industry program at the University of Arizona. White is a founding board member of InSimEd, a non-profit that creates "industry simulation" challenges, affiliated with Aerospace Education Corporation (AEC). As a non-profit, they also assist underserved and underrepresented students to participate and travel to competitions. At Willcox High School, White sponsors the Science Club, the GATE Club, and the Knowledge Bowl. He is the CSO Cabinet Coordinator for Southeast Arizona, and the Southwest Regional Space Settlement Design Coordinator. White received the 2020 American Chemical Society Teacher of the Year Award for Southeast Arizona as well as the Rocky Mountain Region. He won the 2021 Rural Teacher of the Year award for the Arizona Rural School Association. He grew up outside of Globe, Arizona and is still a proud Tiger as well as a Cowboy. He manages a small cow-calf operation with his wife and father-in-law. He enjoys hunting and fishing and working in his garden. He competes in team roping. He is immensely proud of his daughter Arya, and grateful for all the support his wife gives him in all of these endeavors.
The prize package for the Arizona Teacher of the Year includes $15,000 from the Arizona Educational Foundation and travel to National Teacher of the Year events, including a trip to the White House to meet the President and a weeklong trip to International Space Camp in Huntsville, Alabama. Northern Arizona University will also consider White to receive an honorary doctorate.
Do You Qualify for Free Internet?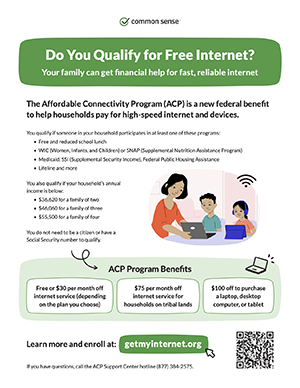 Your family can get financial help for fast, reliable internet. The Affordable Connectivity Program (ACP) is a new federal benefit to help households pay for high-speed internet and devices. Check out this Common Sense Media flyer on connectivity to see if you qualify!