Stay Up to Date—Willcox Unified News
We may be a small district, but there is always a lot happening here at Willcox Unified. Check here for news and events going on in our schools. We'll update it regularly so you always have the most current information possible.
Childfind Screening
Please join us for the Childfind free developmental screening for preschool children ages three to five at Willcox Elementary School on Thursday, March 30, 2023, from 8:00 until 11:00 a.m. If you have concerns about your child's development, please call Farbod Safavi at (520) 384-8607 to schedule an appointment.
Do You Qualify for Free Internet?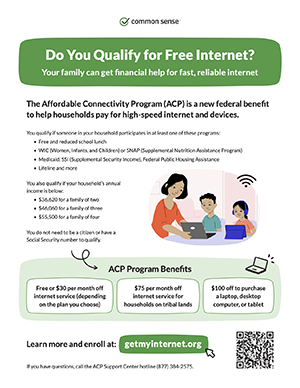 Your family can get financial help for fast, reliable internet. The Affordable Connectivity Program (ACP) is a new federal benefit to help households pay for high-speed internet and devices. Check out this Common Sense Media flyer on connectivity to see if you qualify!